1999 CLALLAM COUNTY STRONGMAN CHALLENGE by JV
THE CLALLAM COUNTY FAIR
STRONGMAN CHALLENGE
HELD AT: THE CLALLAM COUNTY FAIR GROUNDS
PORT ANGELES, WA. AUGUST 22nd, 1999
Reported By: J.V. Askem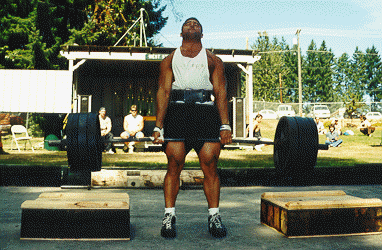 Lance Doyle, the strongest man for 1999 in Clallam County, Washington.
Here finishing an easy 625 lb. Partial Deadlift for first place on that event.
Once again, a nice job by Rich Dill, owner of the Olympic Iron Club in Port Angeles, WA., for organizing another smooth running and entertaining contest. This was the second such contest in as many years, and like last year's contest, it was strictly a small town affair. Also, there were no equipment or implement problems this time. In fact this is the first contest, out of eight that I've been to within the past year, that did not have any implement problems. The contest started at 1:00 pm and lasted just under 2 hours.
Like last year this was mainly a two man contest, with ironically the same two men facing off against each other. However, last year's defending champion, Dave Granson had his work cut out for him as he was pushed very hard by a very determined Lance Doyle. Both men reside in Port Angeles, WA, a community of about 17,000, that stands as Clallam County's seat.
THE EVENTS
1. The Overhead Lift.
Dave Granson started things off with a win with same poundage he won with a year ago, 265 lbs. Lance Doyle was second with 245. Lance gambled and passed on the 265 thinking Dave would not make it, but Dave seemed to make his lifts look easier as they got heavier.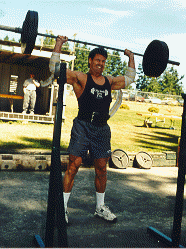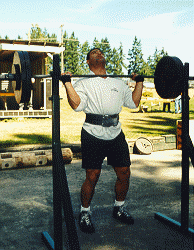 Dave Granson goes from Lance Doyle alternatively goes
behind the neck with 265 from the front side with 245.
2. THE PARTIAL DEADLIFT.
The same event as last year saw Lance Doyle shine at his specialty. In fact, due to a back injury suffered by Dave Granson, Lance did not have to try the 700 lbs. he had recently done in practice.
3. THE INCLINE LOG PRESS.
After the first two events, which were the only two true strength events, a 15 minute break was taken to give the contestants rest. Then an incline bench was set up and two spotters handed the contestants a log to press for a maximum number of reps. This was the event that caused a few problems last year because the old log was not balanced properly. However, no such problems this year! The new log that Rich had made was perfect and very well constructed. I didn't know the exact weight of the log, but I continental cleaned and pressed it for a couple of reps before the contest, and I estimate it weighed about 180 lbs.
Of the two top guys Dave Granson went first, and as the referee for this affair, I had to disallow several of Dave's reps for insufficient lockout. Of the 20 plus reps that he put up, I, in all honesty, could only count 16 of them. Lance Doyle, then followed and did just what he needed to do to win, 17 reps. Third place went to newcomer Don Zeller with 10 reps.
4. THE TWO BUCKETS CRUCIFIX
On this event, two buckets half filled with cement, weighing about 25 lbs. each, were lateraled up to a crucifix position and then held for time with the arms held out straight. As the referee, I allowed some leeway here! As long as the contestant's hands didn't go above the top of the his head, or below his shoulders, I kept the clock running. Lance Doyle won with 38 seconds and Dave was right behind with about 2 second less.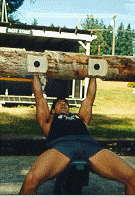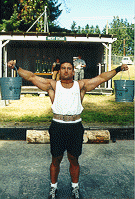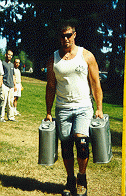 Dave Granson with Lance Doyle with the Kyle Perry, farmers
log on the incline. buckets on the crucifix. walk.
5. FARMERS WALK
Like last year, this event allowed for those running back in the pack to make a move towards a money position. Don Zeller was the winner here, walking with the two 80 lb. gas cans, filled with cement, 8 laps or about 300 yards.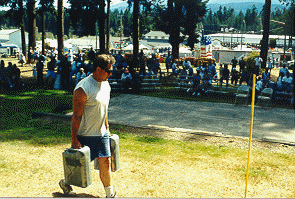 New comer, Don Zeller walks by the bleachers
while winning the farmers walk.
6. TIRE FLIP
Before the contest started I flipped the tire to see how difficult it was and found it too easy for a strongman contest. It felt much lighter than the 400 pounder that I train my guys with. Thus strength was not a primary factor here! Only about 4 seconds seperated first from last place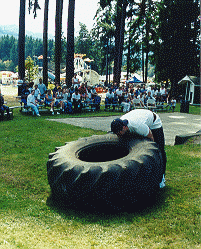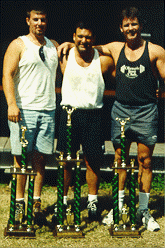 Troy Atwood flips the tire. Left to Right: 3rd place,
Kyle Perry, 1st Lance Doyle,
and 2nd, Dave Granson.
THE PLACINGS and PRIZES.
1st---Lance Doyle-------$300.00
2nd--Dave Granson-----$200.00
3rd--Kyle Perry----------$100.00
4th--Don Zeller
5th--Troy Atwood
I want to thank "J.V." for allowing the re-posting