2000 CLALLAM STRONGMAN by JV
THE 2000
CLALLAM COUNTY FAIR
STRONGMAN CHALLENGE
August 20th
At: The Clallam County Fair Grounds, Port Angeles, WA.
Reported by: J.V. Askem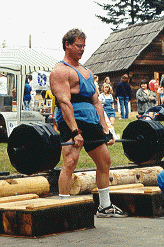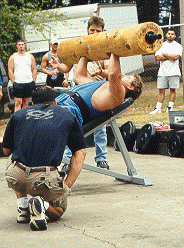 John Harp from Port Hadlock, WA wins the Deadlift,
the Incline Log Press for reps, and was 1st overall.
Once again for the third year in a row, this affair went off without a hitch. Also like last year only six people entered. So yours truly put down an entry and decided to compete instead of refereeing like the two previous years.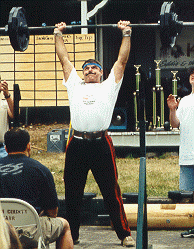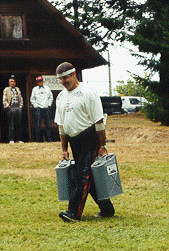 Yours truly, J.V. Askem 1st place on the Overhead Press,
Farmers Walk, and 2nd overall.
The contest had the same six events as last year, but the a couple of changes were made on the implements! Meet promoter Rich Dill decided to use my new log because last years had dried out too much and was too light. Also a heavier and more challenging tire was brought in. The events lined up as so: 1. Overhead Press off the rack, 2. Deadlift off of blocks, 3. Incline Log Press for reps, 4. Crucifix for time, 5. Farmers Walk for maximum distance, and finally 6. The Tire Flip for time.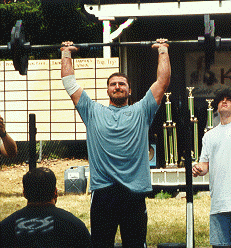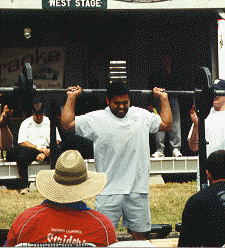 Left: Jay Butler 3rd overall. Right: Eric Martinez 4th overall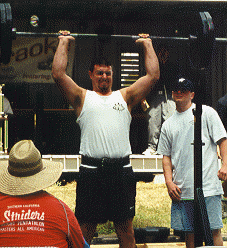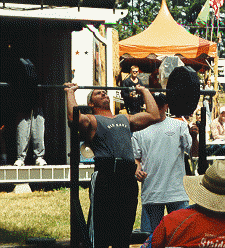 Left: Kyle Perry 5th overall Right: Troy Atwood 6th overall.
It's tougher to write objectively, being one of the contestants, but I'll try. On the overhead press I made an easy 275 lb Push Press to win, and 40 year old John Harp was 2nd with 265. John then won the DL with a 625 effort. He looked good for a little more, but like me on the press, he didn't need it. I tied for second on the DL with Jay Butler at 585. I might add that this the heaviest DL I've pulled from below my knees in 25 years.
On the Incline Log Press for reps John Harp pulled in front with an amazing 35 reps. Second place went to Eric Martinez with 27 reps. On the Crucifix, which was titled at this contest an "Iron Cross", Harp won again with Jay Butler taking second. I have no times available, but I believe Harp held the two 30 lb weights for 45 seconds, with Butler's time being around 39 seconds. Yours truly got 3rd on the Crucifix at about 30 seconds.
The final two events were the toughest. The Farmers Walk implements weren't that heavy, only 85 to 90 lbs, but when you walk with them for about 300 yards, you feel pretty spent at the end. I won the Farmer Walk and Eric Martinez was 2nd. On the final event, the Tire Flip, Jay Butler won, but it wasn't enough to pull this 23 year old ahead of me for 2nd place overall. So Jay ended up in 3rd overall. Second place on the Tire Flip went to John Harp, with yours truly, J.V. Askem getting 3rd place.
Left to right: Jay Butler, John Harp, and J.V. Askem
The Final Placings
1st: John Harp, Port Hadlock, WA-----------32 points & $300.00 richer
2nd: J.V. Askem, Sequim, WA---------------26.5 points & $200.00 richer
3rd: Jay Butler, Port Angeles, WA----------25.5 points & $100.00 richer
4th: Eric Martinez, Port Angeles
5th: Kyle Perry, Port Angeles
6th: Troy Atwood, Port Angeles
BACK TO THE CABLE/ BAR GUY'S HOME PAGE