2001 BIG SKYS STRONGEST MAN CONTEST
NORTHWEST NUTRITION AND Z-100 PRESENT THE
N.S.A.A. SANCTIONED, NATIONAL QUALIFIER
THE FIRST ANNUAL
BIG SKY'S STRONGEST MAN CONTEST
JUNE 16, 2001
MCLEOD PARK, MISSOULA, MONTANA
TO BENEFIT CEREBRAL PALSY
There will be 2 classes, a pro division and a novice division.
This is a NSAA
national qualifier.
THE 1st BIG SKY STRONGEST MAN
June 16th, 2001
At: The University Of Montana
Missoula, Montana
Reported by: J.V. Askem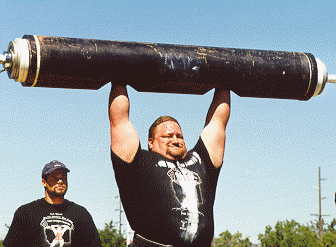 Big James Greene hefting a 350 lb log.
THE SPORT OF STRONGMAN IS ROLLING IN THE NORTHWEST!
Promoter James Greene did the sport proud by holding a truly quality meet. For those who were apprehensive to make the drive or fly out to the far west, you really missed out. For a start, the weather was perfect! Mid 70's with nothing but sunshine, and the scenery in western Montana is hard to beat anywhere.
As for the contest, it was a prefect example of "quality over quantity". Of the 14 entries, 12 showed up from 4 U.S. states and 1 Canadian province, and all were treated to one of the most gut wrenching experiences that they would encounter anywhere. And the irony here is, that this was a first SM contest for several contestants.
There were seven events with two divisions, novice and pro. Six pros lined up with James Greene just participating as an extra hand. And the remaining five novices did the same as the pros, but with just lighter implements. The weights used on the implements were VERY heavy. In short, THIS WAS NO TRACK MEET WITH WEIGHTS. In fact, IMO, some of the best international guys would have been slowed on some of these events!
As an example: The best effort on the pro division Truck Pull was only a little over 13 feet! The 40,000 lb crane that was used, was without a doubt, the toughest Truck Pull I've ever witnessed. The winner was veteran strongman Randy Davis from Calgary, and local newcomer Eric Zaveta was second with a little over 11 feet. The novices pulled a much lighter beer delivery truck, which most of the competitors pulled the full 100' course.

Left: Pro winner Randy Davis strains on
the hardest Truck Pull ever.
Right: This shot of 2nd place pro Berd Beekman
shows the crane truck used.
The 1 RM Log Lift was the second event, with promoter James Greene showing everyone how it should be done! James lifted 350 lbs with room to spare. In the actual scoring, veteran Mike Kromer won with a 340 lb effort, with Berd Beekman doing 330 for second. Among the novices, local competitor Corey StClair won with 240 lbs.
NOTE: I apologize for not having the complete scores, but I was kept pretty busy taking photos and coaching my protégé Jesse Marunde, in his first SM contest. Also, I assisted on the seventh event, as the Super Yokes were mine. JVA
PRO Log
Mike Kromer-- 340
Berd Beekman- 330
Grant Higa-------310
Jesse Marunde-300
Randy Davis-----300
Eric Zaveta-------260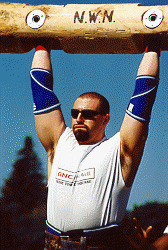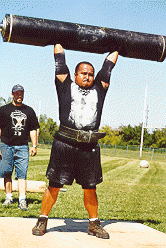 Left: Novice winner Corey StClair.
Right: Hawaii's Grant Higa shows a lot of power on The Log
On the pro Stones, five weighing 235, 245, 270, 295, and 300 had to be loaded onto a 58" high platform. Only Randy Davis got all 5 for the win. Among the novices, Corey StClair picked up another win by loading their four mandatory stones weighing 230, 235, 245, and 270.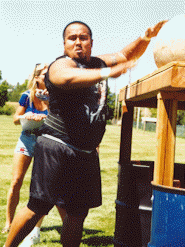 Left: Missoula's own Eric Zaveta on the Stones
Right: Grant Higa again.
The fourth event was a bulky 30 lb Beer Keg Toss for height.
PRO Keg
Berd Beekman---18' (TIE)
Eric Zaveta--------18' (TIE)
Jesse Marunde---16' less attempts taken
Randy Davis-------16'
Mike Kromer------14'
Grant Higa----------12'
NOVICE
Corey StClair-------16'
Dan Zahn-------------15'
The Farmers Walk was two 265 lb cylinders carried 250 feet, 90 seconds time limit. Only Randy Davis finished. The novices carried two 200 lb plate loading handles.
PRO F.W.
Randy Davis--------1:07.7
Jesse Marunde-----244' 1.5"
Berd Beekman------237' 3"
Grant Higa-----------197' 5"
Eric Zaveta-----------133' 11"
Mike Kromer---------85'
NOVICE
Corey St Clair---------43.3 sec.
Dan Zahn---------------52.8
S.J. Taylor-------------1:09.9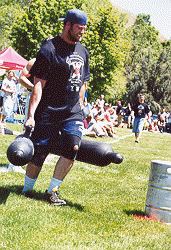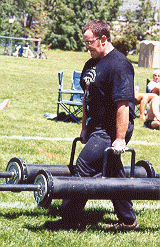 Left: Dan Zahn was 2nd in the novice division, getting set to throw The Keg.
Center: Pro Jesse Marunde making the turn halfway on the Farmers Walk.
Right: 3rd place novice Robert Ward on the Farmers Walk.
The Tire Flip 656 lbs for the pros, 575 lbs for the novices. 90 seconds for 80 feet.
PRO Tire
Randy Davis-----------47.73 sec.
Berd Beekman--------51.13
Jesse Marunde-------1:09.92
Grant Higa-------------1:20.4
Eric Zaveta-------------1:25.53
Mike Kromer----------79'
NOVICE Tire
Corey StClair-----------37.1 sec.
Dan Zahn----------------43.63
S.J. Taylor--------------49.9
The Super Yoke, 800 lbs for the pros, 630 lbs for the novices. 90 seconds for 80 feet. Only Mike Kromer finished the course on time. (Comment: most of the time this event is done at the beginning of a contest. Try carrying 800 lbs on your back after doing six grueling events before!)
PRO Yoke
Mike Kromer-----------1:01.63
Grant Higa---------------59' 11"
Jesse Marunde---------56' 2"
Berd Beekman----------28'
Eric Zaveta---------------16' 4"
Randy Davis-------------15' 2"
NOVICE Yoke
Robert Ward-------------36' 5"
S.J. Taylor----------------15' 10"
Douglas Ward------------15' 9'
Dan Zahn------------------15' 7"
Corey St Clair------------9' 8"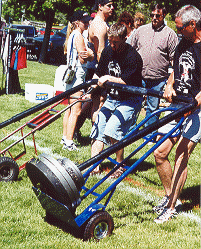 Left: Jesse Marunde flipping The Tire.
Center: In the fore front, on the right, Yoke winner Mike Kromer
faces off against his training partner S.J. Taylor on the left.
Right: An example of how practical my Yokes are!
Two men with just two hand dollies can
easily move around 800 pounders.
PRO TROPHY and MONEY WINNERS
1- Randy Davis, Calgary, Alberta
2- Berd Beekman, Calgary (Tied, but was awarded second on better event placings)
3- Jesse Marunde, Sequim, Washington

THE PROS
Left to right: Berd Beekman, Jesse Marunde, and Randy Davis
NOVICE TROPHY WINNERS
1. Corey StClair
2. Dan Zahn
3. Robert Ward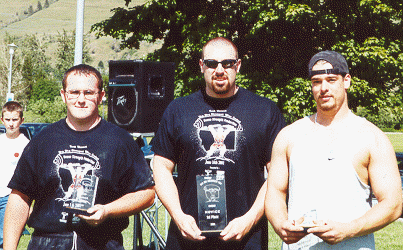 THE NOVICE TROPHY WINNERS
Left to right: Robert Ward, Corey StClair, and Dan Zahn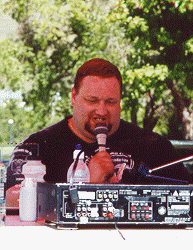 Our illustrious host, James Greene.
GOOD JOB JAMES.
TO THE CABLE/ BAR GUY'S HOME PAGE
Big Sky's Strongest Man Contest
June 16,2001
Results:
Novice:12,000 LB beer truck

Corey St. Clair 100' 36:39 sec.

Dan Zahn 100' 37:47 sec.

S. J. Taylor 100' 40:49 sec.

Robert Ward 100' 50:74 sec

Doug Ward 100' 53:20 sec.

Pro: 30,000 LB crane Truck Pull:

Randy Davis 13'4"

Eric Zaveta 11' 2

Grant Higa 8' 7"

Jesse Marunde 8' 3"

Mike Kromer 8' 0"

Beerd Beekman 1' 10"

James Greene 11' 4" No score
Log Lift:

Novice:

Dan Zahn 230
Corey St. Clair 220 2.5
Robert Ward 220 2.5
S. J. Taylor NL 4.5
Doug Ward NL 4.5

Log Lift:

Pro:

Mike Kromer 340
Beerd Beekman 330
Grant Higa 310
Randy Davis 300 4.5
Jesse Marunde 300 4.5
Eric Zaveta 260
James Greene 350 No Score
Stone Load:

Novice:

Corey St. Clair 4 stones 55:30
Dan Zahn 4 stones 63:89
Robert Ward 0 Stones 00:00
S.J. Taylor 0 stones 00:00
Doug Ward 0 stones 00:00

Pro:

Randy Davis 5 stones 52:68
Eric Zaveta 4 stones 38:00
Jesse Marunde 3 stones 31:00
Beerd Beekman 3 stones 81:00
Grant Higa 2 stones 20:00
Mike Kromer 0 stones 00:00
James Greene 3 stones 33:00 no score
Keg toss:

Novice:

Corey St. Clair 16'
Dan Zahn 15'
Robert Ward 12'
S.J. Taylor 12'
Doug Ward 12'

Pro:

Beerd Beekman 18'
Eric Zaveta 18'
Jesse Marunde 16' 3
Randy Davis 16' 4
Mike Kromer 14'
Grant Higa 12'
James Greene 12' no score
Farmers walk

Novice:

Corey St. Clair 250' 43:03
Dan Zahn 250' 52:09
S.J. Taylor 250' 84:00
Robert Ward 172.11'
Doug Ward 128.10'

Pro:

Randy Davis 250' 67:70
Jesse Marunde 244.2'
Beerd beekman 237.3'
Grant Higa 197.6'
Eric Zaveta 133.11'
Mike Kromer 85' 6
James Greene 216.3' no score
Tire flip:

Novice:

Corey St. Clair 80' 37:01
Dan Zahn 80' 43:06
Robert Ward 80' 67:00
Doug Ward 70.2'
S.J. Taylor 49.9'

Pro:

Randy Davis 80' 47:73
Beerd Beekman 80' 51:13
Jesse Marunde 80' 69:92
Grant Higa 80' 80:40
Eric Zaveta 80' 85:53
Mike Kromer 79' 6
James Greene 80' 60:00 no score
Super Yoke:

Novice:

Robert Ward 36.5'
S.J. Taylor 15.10'
Doug Ward 15.9'
Dan Zahn 15.7'
Corey St. Clair 9.8'

Pro:

Mike Kromer 80' 61:63
Grant Higa 59.11'
Jesse Marunde 56.2'
Beer Beekman 28'
Eric Zaveta 16.4'
Randy Davis 15.2'
James Greene 0.0' no score
Total:

Novice:

Corey St. Clair 12.5
Dan Zahn 15
Robert Ward 22.5
S.J. Taylor 25.5
Doug Ward 29.5

Pro:

Randy Davis 18.5
Beerd Beekman 22.5
Jesse Marunde 22.5
Eric Zaveta 26.5
Grant Higa 27
Mike Kromer 30
James Greene 00 00