Samson-Power
May 5th, 2001
Sterling Va.
Name
Keg Toss
empty 1/4 keg 25lbs
Log for reps
180lbs

Samson Stones (4)175,245,295
&350

Truck Deadlift for time
2001 Ford Escape
Tire Flip 4 flips for time
695lbs
Total Points
Place
Dan Matusic
15ft
8 reps
2
5 sec.
47 sec
23
4 tie
Gary Brown
0
7 reps
2
0
0
13
4 tie
Kevin Irwin
17ft
4 reps
3
21 sec
21.03 sec
29
2
Graham Bartholomew
16ft
0
2
21.69 sec
28.25 sec
23
3 tie
Julie Scanlon
0
0
1
0
0
8
8
Wardell
0
3 reps
2
2
0
13
4 tie
Mark Keshishian
19ft
20 reps
4
26.62 sec
41.50 sec
34
1

Graham with the 245lbs stone, Mark putting the #5-350lbs stone up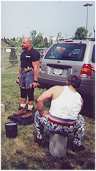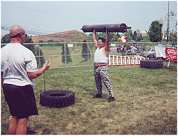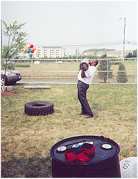 Mark k, Kevin I, Mark k, Dan M, Wardell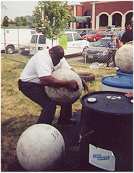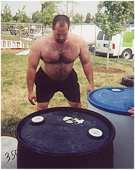 Kevin I, Wardell, Gary B, Gary B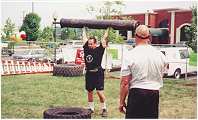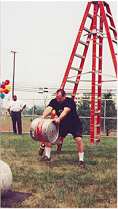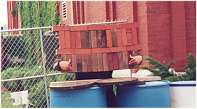 Gary B goes for just 40 bricks..a light day!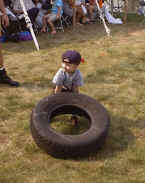 A Future strongman (Kevin I's Son), Gary Brown, Dan M, Julie Scanlon-kept hitting the bar @ 15ft, Mark K getting a rep work out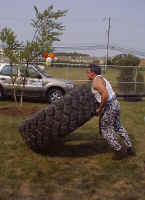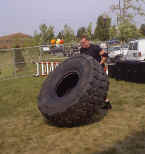 Gary B pulled a hamstring on this one, Graham hanging on to the Ford Escape, Graham, Dan & Kevin on the tire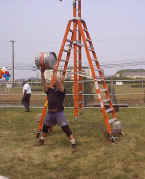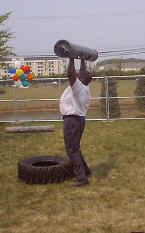 J.R. Hunt just happened to stop in for a bite and took a try at the keg. It was a good day with the keg for me...I think I had another 5 ft. Julie cleaned 180lbs...quite impressive for the first time! Wardell with the log. Dan M. with the log.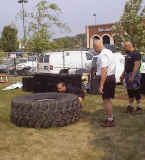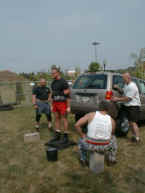 Gary B tries the tire with his sore hamstring. Wardell on the keg. Kevin Hangs on. Kevin on the log.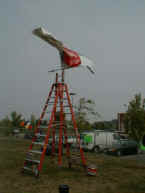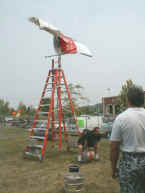 The Toss started @ 15ft, Dan came up with a pretty ingenious set up... Gary B, Graham & Jules on the keg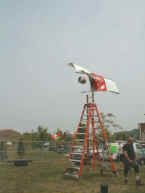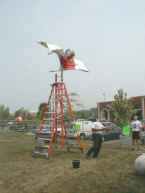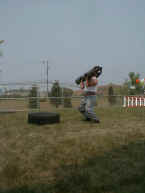 Kevin, Mark & Wardell on the Keg. Dan on the log.
All in all it was a fun relaxing day. The weather was great Jules thought it was an eye opener, I guess it being a first Strongman contest for her.