2005 Arnold Strongest Man Contest
2005 Arnold Strongest Man Contest
Met-RX was putting on a Crucifix challenge for the audience
Little Mike(400lbs) putting on a show for the ladies
Then we had our own Shannon Hartnett Weigh-Lifting
Weight Lifter , Power Lifter and fellow Armenian
Kara Bohigian Clowning around for the camera
---
Photographer, Berry Perkins (seen in one of the photos) provided these shots
---
The Arnold Strongest Man Contest.
as you will see, some of these shots are not the best...due to my position, I took a bit from off the large screens they had set up.
First, Apollin's Axle
Mark Philippi got the dreaded first draw!
Quite a few of the guys were using "The Keshishian" technique of cleaning the bar as high as they can and catching it with a arm
under in the crook of the elbow/biceps area...like a half zercher, then rolling the bar up to the clavicle area to be pressed.
The Hummer Tire Dead Lift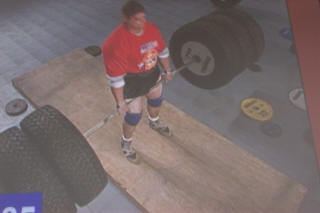 The 60LBS Medicine ball toss
this one usually gets at least one bicep...and it did!
The Thomas Inch Dumbbell
The Hammer Lift
this one got Hugo's Achilles...
The last event was the weight walk...similar to years past and like the one we had in Vegas last year...sorry no photos...they were sold out!
Arnold!
"Arnold for President!"