---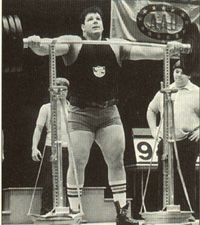 Birthdate: March 6, 1945

Height: 6'3.5"

Weight: 360 to 380 lbs.

Measurements:

60" chest
22.75" biceps
18.5" forearms
22" neck
34" thigh


A Biography:

Mr. Donald C. Reinhoudt, Jr. is the First and Only 4 Time-in-a-row IPF Superheavyweight Champion

Born on March 6, 1945, Mr. Reinhoudt is 6'3.5" and 360-380 pounds in competition. He had a 60 inch chest. A 22 inch neck. Twenty-two and three quarters inch biceps. His forearms measured 18.5 inches. Each thigh was a monsterous 34 inches. As you will read, he is one of the strongest men who ever walked on the earth. He was a four time in a row IPF champion (1973 until 1976). He held all of the powerlifting records in his day. Setting and breaking over forty records in his career. He was the first man to break the 2400 pound powerlifting total record. In 1975, he beat the legendary Jon Cole. Of course, his reputation is true. He is the nicest man on the planet.

---
The below mentioned biography comes from Sons of Samson Volume 2 by David Webster at IronMind.comand numerous other sources.
Mr. Don Reinhoudt came to powerlifting through playing basketball, football and track and field. He was an All-Conference player in football and a varsity letterman in basketball. He put the 12 pound shot 52.5 feet. All of this time, he did not lift a weight because at that time coaches and athletes falsely thought that weight training meant a loss of flexibility known as "muscle-boundness." He attended Parsons College in Iowa under a track and field scholarship. The coaches there introduced him to his destiny: weightlifting. He tried the Olympic style lifts that are heavy on technique, but no one around him knew the proper technique. Nevertheless, he was able to press 330 pounds, snatch 250 pounds and clean and jerk 370 pounds. In all, he competed in 6 Olympic style competitions including the 1967 Junior Nationals. He obtained a degree in finance and fell in love with his future wife Cindy Wyatt. She too was a strength athlete participating in the Pan Am Games in weightlifting and became an American powerlifitng champion from 1997-78. They married in 1969 after three years of courtship. She became his coach and even handed him 600+ pound bars for bench pressing. He was such a classy guy that he would pose for pictures and sign autographs for free during a competition. Simply amazing!


---
At the AAU World Championships of Powerlifting
Don Reinhoudt participated in powerlifting form its very inception as a legitimate sport in the AAU. He participated in his first world-level contest in 1972. It was called the AAU World Championships which were held on November 10-11, 1972 in Harrisburg, PA. The order of the lifts were as follows: bench, squat and deadlift. This lifting order was insisted upon by the Americans and accepted by the British. In turn, the Americans approved the British extra long knee wraps. So, with that technicality out of the way, the historic event could begin. Five Americans comprised the entire superheavyweight (i.e., over 242 pound) class. No other country had an eligible person who could total the 1800 pound needed to participate at the second ever world championship. John Kuc, Joe White, Paul Wrenn, Jim Williams and a very young Don Reinhoudt were the competitors. The real battle for the championship was between Reinhoudt, Williams and Kuc. In the first lift, the bench press, Don pressed 540, 570 and 590 pounds without any difficulty. In the squat, he lost his balance taking a step backwards with the 800 pounds on the way up. His second attempt of 810 was excellent. His third squat of 830 was not quite as good earning one red and two white lights, but the 830 pounds would count. At the subtotal, Kuc had a massive 1505 pounds, Williams was right behind him with 1501 pounds and mighty Don was in third with 1420 pounds. In the deadlift, Don opened with an easy 730 pound pull. Going for the silver, he made a massive 75 pound jump with his next attempt of 805 pounds. He got it above his knees, but couldn't finish the lift. His third lift did not go as high, but he did get it started. He took home the bronze in the second ever AAU World Championships held in 1972. The next year he would come back and win the championship.


Mr. Reinhoudt's Career Best Lifts
Remember all of these lifts were done without aids such as bench shirts and squat suits! He even hated the use of knee wraps and heavy belts!




Squat(in Competition):937 lbs.
Bench(in Competition):606 lbs.
Deadlift(in Competition):886 lbs.

Powerlifting Total(in Competition):2429 lbs.

In November of 1976, he pulled 904 lbs. above his knees coming very close to completing the pull




Snatch(in Competition):260 lbs.
Clean and Jerk(in Competition):370 lbs.
Olympic Lift Total(in Competition):630 lbs.


Supertotal(from Competitions):3059 lbs.


Squat(Career Best):1000 lbs.
Bench(Career Best):606 lbs.
Deadlift(Career Best):950 lbs.
Powerlifting Total(Career Best):2556 lbs.



---