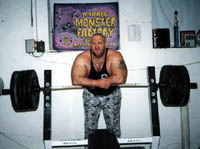 The following is an interview conducted on October 19, 1998

ASL: I would like to begin this interview by saying that your retirement is real loss to the sport of powerlifting. I also want to thank you on behalf of all of your fans and friends for allowing us this opportunity to learn more about you.

Harris: No problem. Where do you want to begin?



---
ASL: Would you care to introduce yourself to your fans and share with us some statistical and biographical information?

Harris: My name is Jamie Harris. My date of birth is December 6, 1969. My measurements are: arms 24 1/2 ", chest 65", neck 22". Height 5' 11". Currently I'm at a body weight of 365 pounds. I have been at 385 pounds at my heaviest.

I am married, my wife's name is Michelle we have been married for 3 years. We have two "kids" our dogs Otis and Jezebel, black labs.



---
ASL: I like many, many people out there were very sorry to hear about your severe triceps injury that you have recently suffered. I was wondering if you could elaborate on what happened and whether or not you will need surgery?

Harris: To set the record straight with my triceps injury, two weeks out from my meet, I had a slight tear in my tendon, which caused a lot of discomfort and bleeding. Heavy skull crushers caused the injury, I was handling about 405 at the time with the easy curl bar. And instead of trying to ice it and heal it for the meet like I would have done a few years ago, I just said the hell with it. But I am sure the triceps would be able to heal in good shape for later on. Not that it was a career ending injury, it was just the final straw that made just say that I was tired of being injured and made me decide to retire. With my blood pressure being as high as it is and my tendentious flaring up in my shoulders and triceps, every cycle got harder and harder, there is nothing to keep me coming back.



---
ASL: Are you a professional powerlifter or do you have a business or job also?

Harris: There is no such thing as a professional powerlifter. Anyone who has been to the elite level of the sport can tell you there is no money as far as record lifts equal cash. But you can do exhibitions and small endorsements with powerlifting companies as I have, but there is sure no money in this sport. At this time, I would like to thank my two biggest sponsors, Rick Brewer of House of Pain Activewear, who makes me the best looking 4x clothes you can buy, and of course my biggest sponsor, Predator supplements, who I now work on a full time basis with. They are the most professional and generous endorsements that I have worked with. Their supplements are also the best on the market today. Also, I would like to thank Ricky Dale Crain, not only is Ricky a good business man, he has been around the sport forever and has gained much wisdom and has shared his wisdom with me throughout the last couple years and I consider him a good friend. Last but not least, I would like to thank my good friend at Powerlifter Video Magazine, Ned Low. Ned has encouraged me from the beginning and helped make me the athlete that I am today. I really appreciate all the publicity he has given me. And of course, you Justin. Thank you for letting me express myself here.



---
ASL: Were you always and big and strong as you are now? When did you start lifting and competing? Did you play any sports as a kid or in college if you went?

Harris: I was always relatively big boned. My first meet was at 13 years of age, at the D'Amico Bench Press Open in Canonsburg, PA. in 1986. Where I benched a massive 230 at 181!!!!! Earth Shattering!!!! In ninth grade, I played football, wrestled, and ran track-shot-put. I kept powerlifting all through high school and sort of put it on the back burner until I graduated. By the time I was a senior in high school, I was 285 pounds could bench 440 and was a 2 year all conference offensive tackle with the Charleroi Cougars. I was a mediocre heavyweight wrestler but I excelled in the shot-put, throwing 57 feet my senior year in high school. Then, my first year in college I wasn't playing anything, so I started powerlifting again. In 1990, I trained for a three way meet, I squatted 705, benched 460, and deadlifted 650. I really didn't like the squat and deadlift, so I just concentrated on my bench. So without all the wear and tear from the squat and deadlift, 6 months later in March of 1991, I benched 560 at 308. I started to notice the more body weight I gained, the stronger I got. In the meantime, I was dabbling with professional wrestling, on a local level. I was afraid it would hurt my lifting, so I didn't pursue it. Once I started benching past the 600's, I got out of it completely. In 1992, I finally surpassed the 600 barrier. In 1993 I took a year off because of work, then in October of 1994 I benched 680 beating Jim Williams state record by 5 pounds. This previous bench record stood for 23 years. Then in March of 1995, I beat the all time record by two pounds with a record lift of 740. At 24 years old, I had the biggest bench in history. That meet was sort of a shock where I was only looking to bench over 700 that day, but things just sort of fell into place. It was one of the greatest days of my life. Then Inzer was running the Baddest Bench in America in September. John Inzer himself contacted me and asked me to compete. I had obligations at work for that time of the year, and had no plans of competing. In June, however that same year, Anthony did a bogus lift of 746 somewhere down in Texas with no judges present and the bar clearly two inches from his chest.



---
ASL: Much has been made about your supposed rivalry with Anthony Clark. Is there bad blood between the two of you like some reporters have reported or is this a fiction?

Harris: This meet (when he did the bogus 746) was the incident that caused all the friction between Anthony and me. Inzer then called me up stating that if I didn't show up at the meet, people would think I wasn't for real. Him saying this plus the apparent credit Anthony received for his lift, against my better judgment, with only 6 weeks to train, I decided to lift. I even managed to double 740 in the gym two weeks before the meet. I thought I was ready to go head to head with Clark, apparently I wasn't, because when I got down to Dallas, my lifting just fell apart. I think it was a mixture of the heat, nerves, and pressure of a meet that size. Inzer or whoever was in charge of the media promotions was trying to set up a good guy/bad guy thing with Anthony and me. After I screwed up at the meet, I went up to Anthony and congratulated him on his victory. But of course that was never mentioned in the magazines. All they said in the magazines was what that idiot Tim said that I watched Anthony warm up with 680 in the warm up room with no shirt "which was a lie" and I was totally psyched out by Anthony. What really irks me about that whole situation is all these people, same as the internet, talk crap in magazines, but when they see you face to face they have nothing to say. So anyway, after the Texas meet, I went into a deep depression. I couldn't understand how I could go from such a high of benching 740 and six months later be looked at like my bench was nothing more than a fluke. I was determined more that ever to come back and prove everybody wrong. It took me two years, but in October of 1996 I benched 760 and a close miss at 781 1/2. One month later at the IPA Senior Nationals, Anthony and me went head to head again. Of course the powers that be, which dictate the show, told me before we went out for the bench off that we would be using Anthony's bench. The bench was about 3 inches lower than normal, the uprights were shorter, and the bar had no knurl lines. A heated argument came about, but I still decided to lift anyway. I opened with 720 and had a hell of a time getting out of the rack and had a hard time getting my legs under me to arch my back. But I still managed to blow up 720 easily. Anthony opened up with 785 and missed it, and I attempted 770, and my shirt blew out. Anthony tried 785 again and missed it, so that was it. We were one and one. After that I spent a lot of time setting up my business and doing exhibitions. Anthony and my paths crossed again in January this year when we both worked for the same supplement company in Pittsburgh. At first we shied away from each other, hesitant. But after a couple weeks, we were the best of buddies. Going on two hour lunches and cleaning out Ponderosa's salad bar. As I got to know him more, I grew to respect him more and more. He is one of the most good-natured, fun loving people I have ever meet and I hated to see him leave. But I am sort of glad he got out of the company he was with because he was being jerked around. But to make a long story short, whoever has the biggest bench press of all time doesn't really matter to me. I feel that our friendship is more important.



---
ASL: Who were your heroes/idols when you were growing up?

Harris: One of my biggest idols growing up was Ted Arcidi.



---
ASL: Could you name some powerlifting accomplishments or feats of strength (e.g., ripping phone books in half) that you have done?

Harris: As for feats of strength, I never really picked up a car before, but one of my favorite feats of strength that I would like to try is to punch a hole in a loud-mouthed RAW powerlifter's head!!! HAHA HA!!!



---
ASL: I mentioned that you did some wrestling in the past and plan on starting up again. Could you tell us about that? Was it fun? Did you wrestle any notable people?

Harris: I am really excited about trying to make it in the WWF. It is the only federation I would consider working with. I have many connections, including Nick Busick, and the Ultimate Warrior-Jim Helwig, who have both wrestled in the WWF. I am hesitant right now to come up with a name or a gimmick, but I am wrestling twice a week in the ring, and three days lifting to maintain my weight at around 350. Time will tell, we'll see what happens. As far as my wrestling past, I wrestled big names as Jules Strongbow, Nikolai Volkoff, and Ronnie Garvin.



---
ASL: Is there anything you would like to say?

Harris: I would to take this time to thank my boss at Predator, Bob, for giving me the chance to start a career of my own, I would never be able to do it without him. Thank you Ned Low, for all of your support. Ricky Dale Crain, Louie Simmons for all their help and fatherly advice. I remember when Louie wanted me to leave Michelle when we were engaged and move to Columbus to train. HAHAHA. Seriously, Louie and all the guys at Westside have been a big inspiration to me. Lastly and most importantly my wife Michelle, who has been very supportive and has been with me through all the rough times, thank you very much, I love you.



---
ASL: Is there any message or greeting you would like to give your many, many fans out there?

Harris: To all my fans, thanks for all your support, you don't know how much it means to me. If I could leave you with one word of advice, believe in yourself and don't let anybody or anything stand in the way of your goals. I love you all.



---
ASL: Thank you for the opportunity. I am sure I speak for everyone reading this interview when I say, good luck to you in your endeavors and please consider a come-back in the not too distant future.

Harris: Ha Ha. Once again, thanks Justin for letting me express myself.