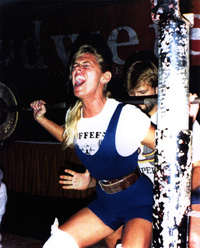 An Interview with Cynthia Morrison, held on April 19, 1998

ASL: First, I want to take this opportunity to thank you for granting the world this opportunity to learn more about you. On behalf of all of those who frequent American Strength Legends, thank you. I think you make a great addition to American Strength Legends.

Cynthia: No, thank you for this opportunity.



---
ASL: Would you care to share with us some biographical and statistical information about yourself?

Cynthia: My name is Cynthia L. Morrison. I was born in 1959. I am single. I don't have any children. I am five foot eight inches tall at 150 pounds bodyweight. I have an associate of arts degree in criminology from Palm Beach Community College. I also have an associate of Science degree from Palm Beach Community College as a Paralegal. I also hold various automotive certifications. My best lifts are 335 deadlift at 142 pounds in bodyweight. Also at 142 pounds, I squatted 315 pounds. I have thrown the 20 pound weight for 9,26 meters and the Scottish Hammer, which weighs 16 pounds, 47 feet.



---
ASL: Are you a professional strength athlete or do you have a business or job also?

Cynthia: I have been an Amateur Athlete as well as a professional in Scotland, but not full time. I have been a minor partner in a business for the past 9 years. the business provides service and parts for Rolls Royce and Jaguar autos.



---
ASL: Were you always as good at throwing as you are now and as strong as you are now? When did you start lifting and competing? Did you play any sports as a kid or in college if you went?

Cynthia: I was at my strongest point from 1989 to 1992. I never did any throwing until I entered my first Highland Games in 1993. I had attended a Highland Games the year before that and only learned to throw through memory when watching the athletes-The caber and all! I didn't throw in Track and Field until then. One of the Highlanders introduced me to the Master's Track and Field events. I find that most throwers have a high school or college throwing background. that was not the case with me. In high school, I was a lazy bum! I had no interest in sports. I just wanted to surf and sleep late! So, I feel that I have been making up for lost time where the sports is concerned. I had originally set my sights on bobybuilding, but my former husband disallowed my competing in this. Then, he presented to me a book he had gotten at Church before I met him. It was written by Paul Anderson. The book really inspired me to pursue strength as well as Powerlifting USA magazine. The rest is history.



---
ASL: Who were your heroes/idols when you were growing up?

Cynthia: Paul Anderson, Doug Hepburn, Bev Francis, Ivanhoe and the Lone Ranger



---
ASL: Could you name some powerlifting accomplishments or feats of strength that you have done?

Cynthia: See the bio page here at American Strength Legends. Other feats of strength include the following: tearing telephone books (this was taught to me by professional strongman Dennis Rogers while at the "Oldtime Barbell and Strongman Association" annual awards banquet; pulled a 1964 Rolls Royce Silver Could attached to a harness; bending table knives and forks (usually curling them up); lifted the number one McGlashen Stone which is 198 pounds in Scotland; lifted a 200 pound cement cube from my own collection; loaded railroad ties into the back of a station wagon across a parking lot; lifted and carried a 225 pound man in a fireman's carry and ran up an embankment of a beach; lifted, ran with and threw a 165 pound stuntman at a Renaissance festival; placed 5th out of 9 competitors at caber tossing in Dunedin, Florida (I was the only woman)



---
ASL: I hear there is going to be an America's Strongest Woman Contest soon which is similar in format to the World's Strongest Man Contest, would you participate in it?

Cynthia: I am basically retired from extreme strength contests now at 38 years old, but if they had a Master's division that was drug tested, I might consider entering.



---
ASL: Do you have any throwing, powerlifting or strong woman competitions, contests or exhibitions coming up?

Cynthia: I am basically retired



---
ASL: I read about how you were the first woman to compete in Scottish Heavy Events. Please tell us about the whole experience. How were you received?

Cynthia: Being the first woman competitor was a mind blowing experience!!! Not only for myself but for the Scottish community as well. I was warned by British friends of mine to expect possible resentment from the Scots, but as it turned out, it was just the opposite. I had one elderly Scottish gentleman came up to me to shake my hand and said, "It's about time Lass. We have been waiting to see this day!!" Gestures like that made the event even more worthwhile to me. Most importantly, I appreciated the opportunity to deliver my message to the wee lassies that "They should never let being a woman stop them." As for the competitors, I could not have asked for a better group of gentlemen to compete with. Everyone was very nice and helpful. I have experienced the most opposition and problems form my American Amateur competitors. I do not wish to elaborate on this.



---
ASL: Is there anything else you think the world should know about you?

Cynthia: Yes, I would like everyone to note that I am not a bodybuilder/physique athlete and I am not in the business fro wrestling matches!!! I have pursued all of my strength events purely out of my passion to do so. I have never sought to profit from them and never did them with the intention of capitalizing on them. Because of this, I am often asked WHY do I bother? My only answer would be "to conquer the seemingly impossible." For this carries a price, and the only profit is self-satisfaction, and in my opinion, is PRICELESS!!!



---
ASL: Is there any message or greeting you would like to give your many fans out there

Cynthia: I just want to say thanks to everyone who has admired all of the hard work that I have put forth into pursuing my passions with regard to strength events! To the ladies out there, I would like to once again mention the fact that they should never let being a woman stop them....at anything they put their minds to. I was and have been discouraged by folks close to me for many years. I wish I had at least one of them tell me the above statement.



---
ASL: Thank you so very much for granting American Strength Legends this interview. It has been fun learning about you. I am sure that I express the sentiments of all those who visit American Strength Legends when I wish you continued success and championships in the future.


---