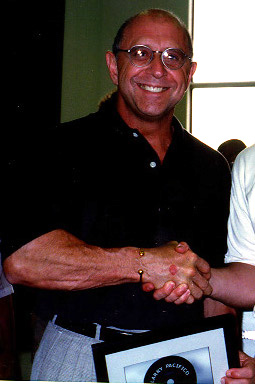 The following is an interview with Larry Pacifico conducted on June 17, 1999




ASL:

I would like to start this interview by thanking you for taking time out of your busy schedule in order to do this.

Pacifico: No problem.

ASL: Would you care to share with us some statistical and biographical information?

Pacifico: My name is Larry Pacifico. I was born on January 17th 1946. Today, at 53 years old, I stand 5.6 and weigh 190 pounds 10% fat. My best official lifts are 832 pounds in the squat. I benched 592 pounds without a bench shirt. I also deadlifted 771 pounds. My best exhibition lifts include:

Squat: 885 pounds
Bench: 610 pounds
Deadlift: 815 pounds
Push press off the racks: 440 pounds
Standing press: 315 pounds in 1968
Snatch: 270 in 1968 Clean and Jerk: 320 pounds in 1968
Today I am married and have a 11 year old boy. I have a 34 year old daughter and a 31 year old son from my first marriage.

ASL: While surfing the web one day, I noticed that you have a website for your gym. Would you care to tell us about the gym and clientele?

Pacifico: I own the most popular gym in Dayton called Champions gym & Personal Training co. We do 250 sessions of PT per week there. I own a Personal Training center only called Club Champions. We do 300 sessions per week. The website can be accessed at http://www.championsgym.com

ASL: You are officially retired, correct? While you were competing, were you a professional powerlifter or did you have a business or job also?

Pacifico: I have been retired from (PL) since 1985. I was one of the first to make a living on lifting. From 1976-1996, I owned a mail order business called Pacifico Enterprises. However, during those years, I also was an officer for a chain of fitness centers in Ohio and Indiana.

ASL: Were you always and big and strong? When did you start lifting and competing? Did you play any sports as a kid or in college?

Pacifico: I was always strong, but small. I was a 57 foot shot putter and 163 foot discus thrower in High School while only weighing 155 pounds.

ASL: Who were your heroes/idols when you were growing up?

Pacifico: I grew up playing baseball so my heroes were Mickey Mantle and Willie Mays. As a lifter, my mentor was then (and is still today) Ron Collins. I was motivated by John Cole and Ron Ray.

ASL: Could you name some powerlifting accomplishments or feats of strength that you have done?

Pacifico: I can still tear a Dayton phone book in half but my best feat of power was a seated behind the neck press with 335 pounds for 3 reps. I also did a lying triceps extension with 380 pounds for 2 reps. My career in powerlifting was fun and fulfilling. During the 70's, I was considered the strongest man in the world pound for pound. Back then, winning 9 consecutive world titles was great because then there was only one federation.

ASL: Last year you were inducted into the York Barbell Hall of Fame, could you tell us about that weekend? Will you attend this year?

Pacifico: Being inducted into the Hall of Fame was great. I was also the second inductee into the International Hall of Fame behind Ron Collins. I can't attend this years Hall of Fame weekend because I will be busy opening another Personal Training Center.

ASL: You accomplished a near impossible feat of being a nine time world champion, to what do you owe your successes? Which one of them was your favorite?

Pacifico: I owe my success to my training partners and coach Bob Matz. My favorite title was in 1977 when we traveled to Australia. That year was the first year TV covered us. I spent some time with Bryant Gumble and later I was a color commentator for NBC and CBS. That was big fun for me. I worked with Bob Costas in Japan, Merlin Olsen in England. I was slated to be the color man for the 1980 Olympics, but President Carter kept us from going to Russia.

ASL: Do you have a funny story about any powerlifting contest or a memorable moment?

Pacifico: The funniest story I have for powerlifting is the state of the game today. Today, there are at least thity federations. One guy I know claims as many world titles as I have. He told me he won three in one year! For two of them he was the lone lifter in his class. The real funny issue is watching someone put on a bench shirt so he can claim a 50 pound gain on that lift. This is why you won't see powerlifting on television anymore. It's become a joke to the networks.

ASL: Is there any message or greeting you would like to give your many, many fans out there?

Pacifico: My message is the game was great at one time and could be again. However, we need money and brains to straighten it all out. Get back to a single organization and change the classes to the following classes 135, 165, 195, 225, 265, 305 and super heavy. We only need to have seven classes. Get rid of the Squat and all the equipment. Then and only then, will this sport go anywhere. Meets are too long and boring. They were even boring when we lifted in them. It's time to restructure the entire game and bring back the fans.

ASL: Again thank you Mr. Pacifico. Best of luck to you in all you do.

Pacifico: Thanks for the opportunity to speak out. If any of you are in Dayton stop by to say hello. My web site is www.championsgym.com.